Peacock Bass Fishing in the Amazon Rainforest
Amazon Rainforest Fly-In Camps for Peacock Bass Fishing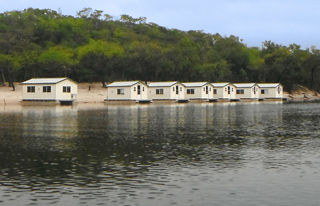 When you opt for the floating cabin style trip for Peacock Bass in the Amazon Rainforest you will likely be assigned to a camp very similar to the one above. In this camp, there are six sleeping cabins with a larger kitchen on the left. These cabins are double occupancy with a private head/shower and all cabins are airconditioned. These camps accommodate up to twelve persons. I took this photo of a camp that was located on the Xeurini River, but all of the camps are mobile and are frequently moved to access newer fishing waters, which helps to prevent over-fishing any one area. There is no set schedule, but each camp is typically moved every few days or so and the camps are maybe 50 or so miles apart.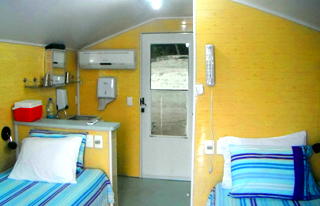 The cabin interiors are clean and functional and all cabins are air conditioned. There is a storm door on each end, one leading to the shore and the other to a small patio over the river. On the right is the head with shower and toilet. On the left is a wash basin, On the near end of each bed is a desk and small closet for hanging clothes. At the desk is a standard 120V outlet for charging batteries for cameras, iPads, etc. The cabins are cleaned each day by camp staff and dirty clothes are laundered each day, folded and placed on your bed.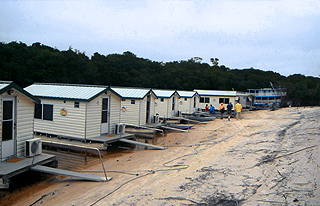 This photo shows the same camp from shore. You can see the electrical lines running along the ground serving each cabin. The generators run all night but are far enough from the cabins that you don't hear them. This picture also shows the boat where the camp staff stay.
Obviously, there is no cell phone coverage here but each camp manager does keep an operable satellite phone in camp for emergency needs. You may use this phone to make personal calls on a limited basis at a charge of $7.00/minute.
Each camp has a Camp Manager who is responsible for overall operations of the camp and the performance of camp staff in the execution of their duties. All camps were not constructed or purchased at the same time, so there may be variances. One camp may be 2 years older or newer than another. One camp may have all Yamaha Outboards on their fishing boats while another may have all Mercury Outboards. All camps are inspected by the owner prior to the beginning of the fishing season to ensure to ensure they meet or exceed standards of cleanliness and functionality.
Please contact me for the latest promotions and availability.
Email me at Larry@LarryNewton.com or call me at (270) 909-1049.