What to bring on your Peacock Bass Fishing Adventure
Tackle and Baits to bring to fish for Peacock Bass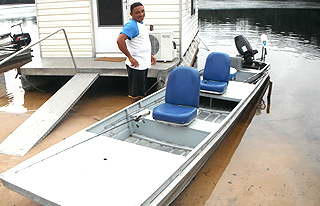 Peacock Bass Fishing Tackle: Each camp has a supply of both casting and spinning rigs...rods and reels. However, I always suggest that you bring your own so that you will have equipment that you are familiar with and not have to be getting acquainted with new gear. Each camp is a little different, so the quality and quantity of equipment is a little different in each one. I normally take three reels and two rods. I fish pretty much exclusively with GLoomis rods, no matter where I fish. So, I take a GLoomis ETR81-3MHC-17 and an ETR81-3HC-20. These are 3-piece travel rods made for fighting fish like the Peacock Bass and come in a hard case for travel and you can carry it on the plane. I also take three Shimano reels...I prefer the Antares ANT100HG or Calais 200DCs. I have fished with guys down there who are happy with camp gear or stuff they've purchased from Bass Pro Shops. I have a philosophy about always using the best equipment I can find and afford, which is fodder for another conversation, but the combination of GLoomis rods and Shimano reels is hard to beat.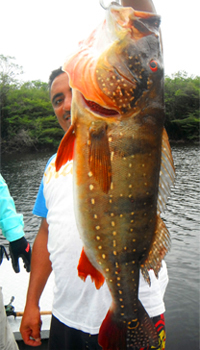 Peacock Bass Fishing Baits: The way these fish explode on a topwater, it's hard to ever fish anything else. Highroller Lures makes a solid wood prop bait called a "Rip Roller" that is awesome. They come is 5.5", 6.5" and 7.5" and you will want a few of each of several colors...my favorites are Halloween, Clown and Peacock. Don't leave home without them. There are two sub-surface baits I like...the Cotton Cordell "Redfin" 7" and the Rapala Glidin' Rap GLR-12, they're becoming hard to find. The Redfins are great for working shallow flats just waking them and the Rapala for water a little deeper. Blue/Chrome Redfins and the Rapala in Perch, Bluegill or Blue/Chrome. Lots of different baits will work, just remember that they need to be built for extremely tough conditions and 2X - 4X hooks are a must. Every camp has plenty of hand tied jigs that are made by the guides and they work extremely well. They are only $5 ea. For line, bring plenty of 50# or 65# braid. People don't want to believe it, but a 10-pound Peacock Bass can destroy a spool of 30# braid and ruin your trip. Of course, you will want to take along a few of the essential tools such as a pocket knife, needle nose pliers, clippers capable of cutting braid. I normally take along a Boga Grip, but all the guides have one in the boat. Just in case of a double, an extra gripper is nice to have.
Things to bring for you
Personal Items: This list begins with all the standard items you would take on any trip. A complete list will include your personal favorite items you normally take on any fishing trip such as:
Energy drink mix
Camera / extra batteries
Battery chargers
Polarized sunglasses
Sunscreen
Lip balm
Prescription medicines
Toiletries
Insect Repellent w/Deet
Clothing: Everything to protect you from the sun. DO NOT bring a lot of clothes. Your clothes are laundered each day, folded and placed on your bed. I normally take 3 shirts and 3 pants including the ones I wear on the way down and I wear clean clothes every day. For shirts, it's hard to beat Columbia's Tamiami II long sleeve. Simms' Sunhood is great because it gives you all the protection of a gaiter, plus you can wear it over your cap to keep it from blowing off and their Solarflex Guide Gloves are perfect for this trip. No matter the brand of shirts and pants, I urge you to consider ones made of newer technical fabrics with moisture wicking and quick-drying qualities. The lighter the better and the higher UPF rating, the better. On my first trip, I made the mistake of fishing in sandals and the top of my feet were cooked medium well by the end of the first day. That sun is BRUTAL!!! Protect yourself. Around camp, t-shirt, shorts and sandals are fine.
Please contact me for current availability and pricing.
Email me at Larry@LarryNewton.com or call me at (270) 909-1049.