Peacock Bass Fishing in the Amazon Rainforest
Peacock Bass Fishing
Back in the early 1990s, Peacock Bass fishing in South America exploded. There were jungle camps and lodges with small fishing boats and double decker houseboats patrolling the waters of Venezuela, Colombia and Brazil. For whatever reason, some fishermen decided to illegally import some of these fish and release them into the waters of south Florida where they have flourished. While I admit the south Florida fishery is good, it will never take the place of a trip to the Amazon Rainforest in Brazil.
There are basically two different programs for chasing these fish today, both effective.
One program utilizes a double decker style houseboat and modern, aluminum bass boats. This program normally offers a bit more time on the water, more luxurious accommodations and a more upscale experience. This program typically operates along the Rio Negro NNW of Manaus. The other program utilizes a mobile camp of floating aluminum cabins built on pontoon logs. These cabins are tied together and towed in a line to a suitable shore along any number of rivers feeding into the Rio Negro and fishing is from a solid weld aluminum boat. While this program does not offer the luxuries of the first program, it is available at a more modest cost.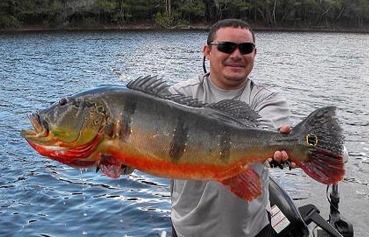 Cost and luxury aside, the only other consideration is the fishing / fishery. The houseboats typically operate in public waters along the Rio Negro while the floating cabins operate on private leased water on the rivers draining into the Rio Negro. In my opinion, the quality and quantity of fish caught in the private waters is better than those from public waters.
For my money, there is no point in considering any trip that is offered outside the Rio Negro system. The Rio Negro (Black River) is aptly named due to its high level of tannins. These tannins are not conducive to the growth of mosquito larvae, which is responsible for a very small population of mosquitoes. Most people tend to expect to fight off the mosquitoes all day, but this simply is not the case… as long as you stay in this system.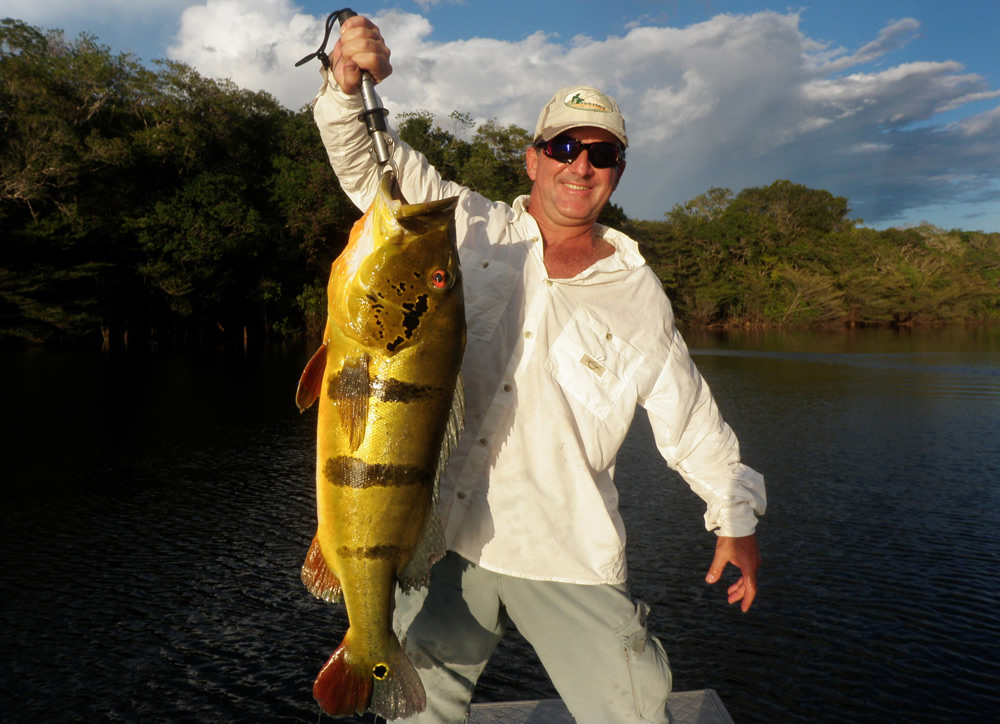 Regardless of the program you choose, your trip will begin with an American Airlines flight from Miami to Manaus, Brazil where you will be met by a representative from your outfitter and taken to a local hotel to spend the evening. There is only one daily flight, which departs Miami at 5:30PM and arrives in Manaus at 11:50PM. It will likely be well beyond midnight before you clear immigration and customs and are delivered to your hotel by your outfitter. The plane is on the ground only long enough for the cleanup crew to give it a once over, then board passengers bound for Miami. So, this is the same plane you will catch for your return flight, around 1:30AM on Sunday morning.
Once you are in the hands of your outfitter's rep, you will be entirely in their care. The floating camps adhere to a fairly strict schedule and operate camps in this area from early November thru the end of February and operate from Saturday till Saturday. Your group will be picked up at the hotel in Manuas on Saturday morning after breakfast and delivered to the airport where you will board a charter flight to a grass strip in the interior. Upon landing, you will meet the group from the camp who are on their way home. From there, you will be transported by power boat to your floating camp. The charter flight is normally around one hour and the power boat ride maybe another two hours.
You will arrive in camp in time to choose your cabin, unload your gear get in an afternoon of fishing. On Sunday morning, you will begin your routine of getting up around dawn, eating breakfast, choosing your lunch items and take off for a day of fishing. You will return to camp around 4:30 – 5:00PM in time to freshen up before dinner. This routine will last thru Friday. On Saturday morning, you will have breakfast and be loaded into the power boat for your journey back to the grass strip where you will meet your charter flight and the incoming fishing party.
After your arrival back in Manaus, you will be returned to the hotel to await your flight home. A couple of hours before flight time, they will return to pick you up and deliver you to the airport for your return flight home.
Please contact me for the latest promotions and availability.
Email me at Larry@LarryNewton.com or call me at (270) 909-1049.