Desert Mule Deer Hunt
Desert Mule Deer Hunting in Mexico
Desert Mule Deer hunting in Mexico is excellent and you do not have to wait to draw a tag. Our hunts are 'Spot and Stalk' and are conducted in the state of Chihuahua where we have good populations but, the genetics cannot compete with those found in Sonora. We hunt on leases of around 80,000 acres between 5,000 and 6,500 ft elevation in the Western Sierra Madre Mts during rut, which normally occurs around mid-January. We limit our hunts to 4 hunters and hunt five full days. Our Desert Mule Deer hunts are priced at $5,500 and you can expect to harvest a great 160" buck with shots of 200 – 400 yds.
Accommodations are provided in ranch houses on the particular ranch we are hunting that day. All of these houses are clean and comfortable and offer plenty of hot water for your shower. We use the same camp cook in all of our Chihuahuan hunts and she has proven over the years to present delicious meals of Mexican cuisine in all the different ranches
You should make your travel arrangements to fly into the International airport at Chihuahua City, MX (airport code CUU) capital of the state of Chihuahua. We will pick you up at the airport there and provide transportation to the ranch where your hunt will be conducted. At the end of your hunt, we will transport you back to the airport in Chihuahua City. As an alternate, you may fly or drive to El Paso, TX (airport code ELP) and we can provide the same pickup/drop-off service for you up at the airport there. When driving to El Paso, parking in the Long-Term Lot at the airport is only $5/day and is a very safe place to leave your vehicle. If you need any assistance in making your travel arrangements, please let me know and I will be happy to assist you.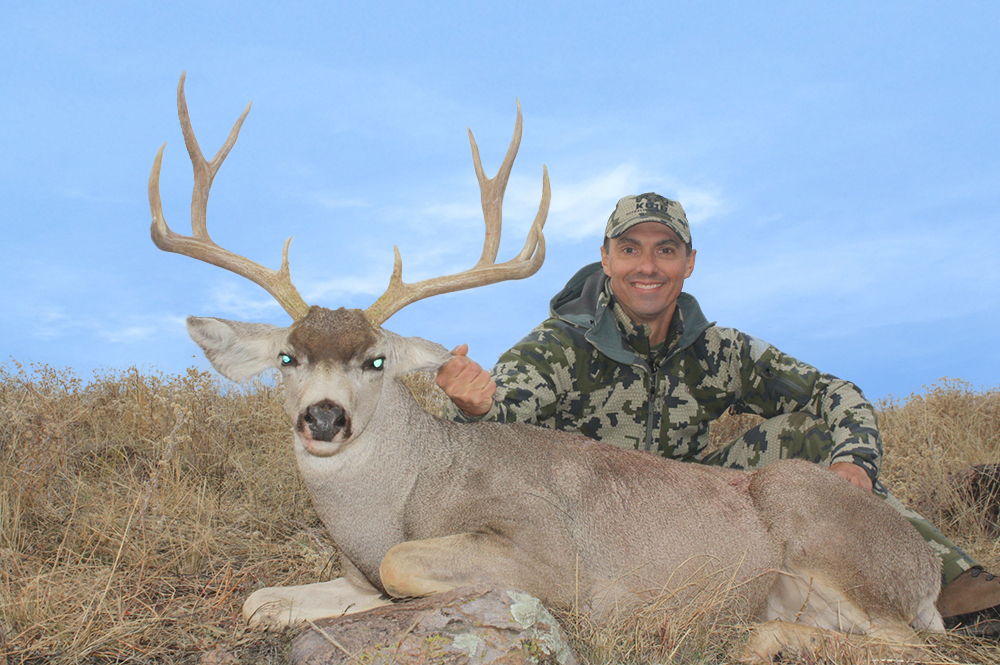 When you come to Mexico to hunt the Desert Mule Deer with us, we will provide transportation to/from the airport in Chihuahua City, lodging, meals, hunting license, tag(s), use of our rifle and ammo, USDA approved preparation of your trophy and all documentation necessary to bring your trophy back into the US with you. Our hunts are fully guided 1:1 and may be customized to meet your needs. If you want to bring you own gun, the permit fee is $350 and allows you to bring in up to two guns with a maximum of 100 rounds of ammo for each gun. Please allow at least two months to process the permit.
Please contact me for current availability and pricing.
Email me at Larry@LarryNewton.com or call me at 270.293.6618.