Whitetail Deer Hunting in Mexico
Whitetail Deer Hunting in Mexico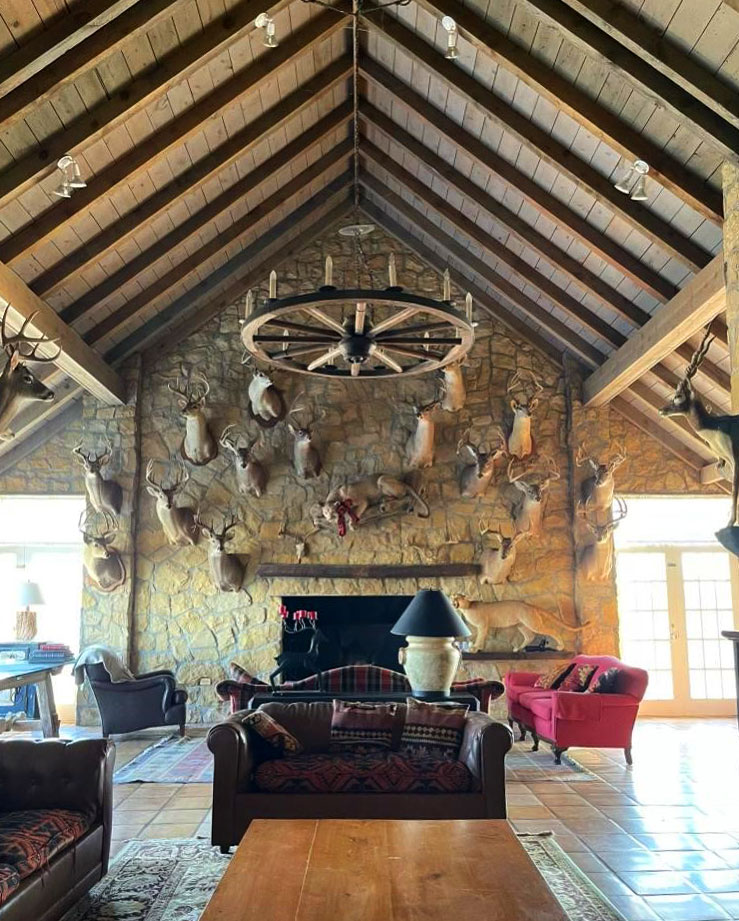 Whitetail deer hunts in Mexico are conducted on our private ranch of over 5,000 acres in the state of Tamaulipas near Laredo, TX. This is a working cattle ranch, which has been owned by the same family for over 100 years. The terrain conforms to the stereotypical South Texas ranch covered with thickets of mesquite, prickly-pear and a dozen other unfriendly plants. It just happens to be on the opposite side of the Rio Grande. Due to this unfriendly vegetation, spot and stalk style hunting is not something we do here. However, the land is relatively flat and you can see a long way from an elevated perch. We have 16 elevated blinds and we have placed a feeder within easy rifle range. Most blinds offer multiple shooting lanes.
We belong to the Angadi Association, so we use the same definition as other local ranchers for classifying our deer. A trophy deer is a 9-point or larger and a management deer is an 8-point or less. This makes it a lot easier for you to determine the class of deer standing in front of you before you press the trigger. When there is enough interest, we will offer 3-day Management Deer hunts. We have an 8-pointer hanging above the fireplace that measured 157" so, management buck does not mean little buck. In fact, we have a lot of really nice 8-pointers on our ranch.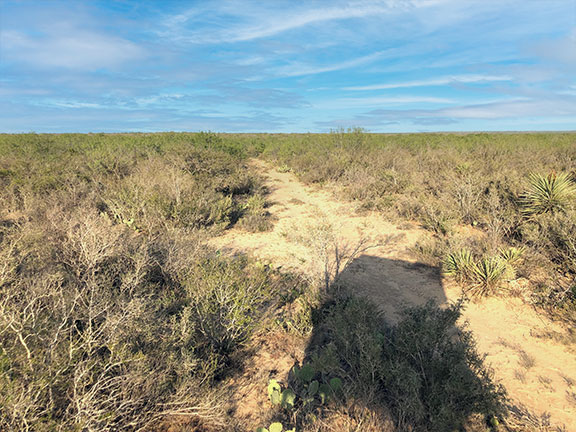 Our trophy whitetail deer hunts take place during the rut, which kicks in a little later than in most of the US, typically around the first of the year. We offer a five-day hunt during each of the first two full weeks of the year and book a maximum of five hunters for each week. Our average trophy deer normally score between 145" and 155." Certainly, we have bigger deer on the ranch and out of the ten trophy deer we take each January, we normally take at least one Booner and one drop-tine. But it takes a lot of patience to out-wait them and many of our hunters get too excited when they see a 140" step out and can't stand the wait.
Please visit our Facebook Page for frequent postings of trail cam pics beginning early October each year.
Whitetail deer in Mexico don't act any differently than they do in the US. Rut is crazy time and all the data we have from trail cams up to that point is out the window as there will be whitetails show up during the rut that we have not seen all year and the ones we think may be counted on to show up at a certain feeder at a certain time, we never see again. Still, rut is the best time to get that trophy of a lifetime.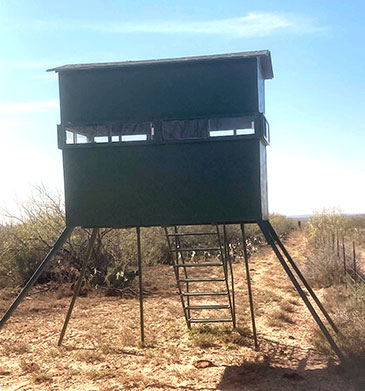 Just in case you cannot wait for that giant to step out and happen to tag out early, you are welcome to vent your frustrations on some Javelina, hogs, bobcat and coyotes, all of which are available with your trophy hunt.
Like our management hunts, we do not have a set schedule for bow-hunting for our Whitetail deer. We do however, prefer the first three weeks of December. We will set up our trail cams around the end of dove season and begin monitoring movements of whitetails. After determining the location offering you the best opportunity to take a great deer, we will place a popup within whatever range you prefer. We use Barronett Big Mike blinds and find them to be very friendly to our bow hunters. If you would like to bow hunt our ranch, please give me a call and we can set something up for you.
For SCI members, these deer are the Mexican Texanus Whitetail Deer and are Gold Medallion class.
Your accommodations will be in the main ranch house. We have five bedrooms and four baths in the house with an additional 2 bedrooms and 2 baths in the adjacent guest house. Neli has cooked for the owner's family for the past 15 years and her preparations never disappoint. In addition to a good glass of wine with dinner, we offer a well-stocked self-service bar. If you would like to bring your own personal favorite spirit that is never a problem. Or we can stop between the airport and the bridge and let you pick something up. You are allowed to bring 2 liters into Mexico duty free. There is always Gatorade, soft drinks and bottled water in stock at the ranch. Please let us know if you have any special dietary needs or restrictions.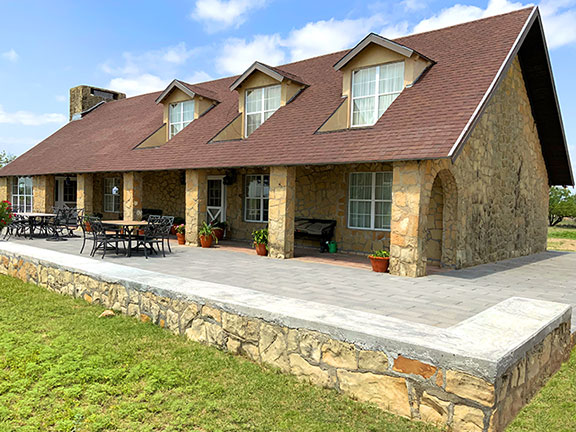 Getting to your Whitetail hunt in Mexico, you should make your travel arrangements to fly into the international airport in Laredo, TX (airport code LRD) and we will pick you up at the airport and drop you off there after your hunt. If you prefer, you may want to drive to Laredo and park in the long-term parking lot at the airport and we can pick you up there. It is the safest place to leave your vehicle and the parking fee is only $5.00/day. Many of our hunters who prefer to bring their own rifle prefer this method of travel into Laredo as it avoids the hassle of getting it on and off a plane. If you need any assistance in making your travel arrangements, please let me know and I will be happy to assist you.
We are located approximately 40 miles from the International Airport in Laredo, TX. On your way into Mexico, we will normally drive straight thru the border without much delay. On the return, it will be a bit slower as it takes time to process your trophy thru customs. If you choose to bring your own rifle, that takes additional time for processing going and coming. Normally, the drive is approximately one hour from the airport to the front door of the ranch house.
When you come to Mexico to hunt Whitetail Deer with us, we provide transportation to and from the airport in Laredo, meals, lodging, hunting license, tag, use of our rifle and ammo, preparation of your trophy and all documentation necessary to bring your Whitetail trophy back into the US with you. Our hunts may be customized to meet your needs. If you would like one of us to sit in the stand with you, no problem or you may choose to be alone or you may bring a special someone with you as an observer.
If you want to bring your own gun to use during your trophy hunt, we will be happy to process the application for you. The permit allows you to bring in up to two guns with a maximum of 100 rounds of ammo for each gun. Please allow at least one month to complete the process.
Whitetail deer hunting in Mexico cost is $4,700 for our trophy hunts and our management hunts are $2,500. Observers are welcome at $150 / day.
Please contact me for current availability.
Email me at Larry@LarryNewton.com or call me at 270.293.6618.