Ocellated Turkey Hunting in Mexico
Ocellated Turkey Hunt
The hunt for Ocellated Turkey in Mexico is the most unique of all the wild turkey hunts, anywhere. We hunt the Ocellated in the state of Campeche, Mexico, which is the western most state of the Yucatan Peninsula. Most of this land is flat and covered by dense rainforest or fields planted in sorghum or other similar grains.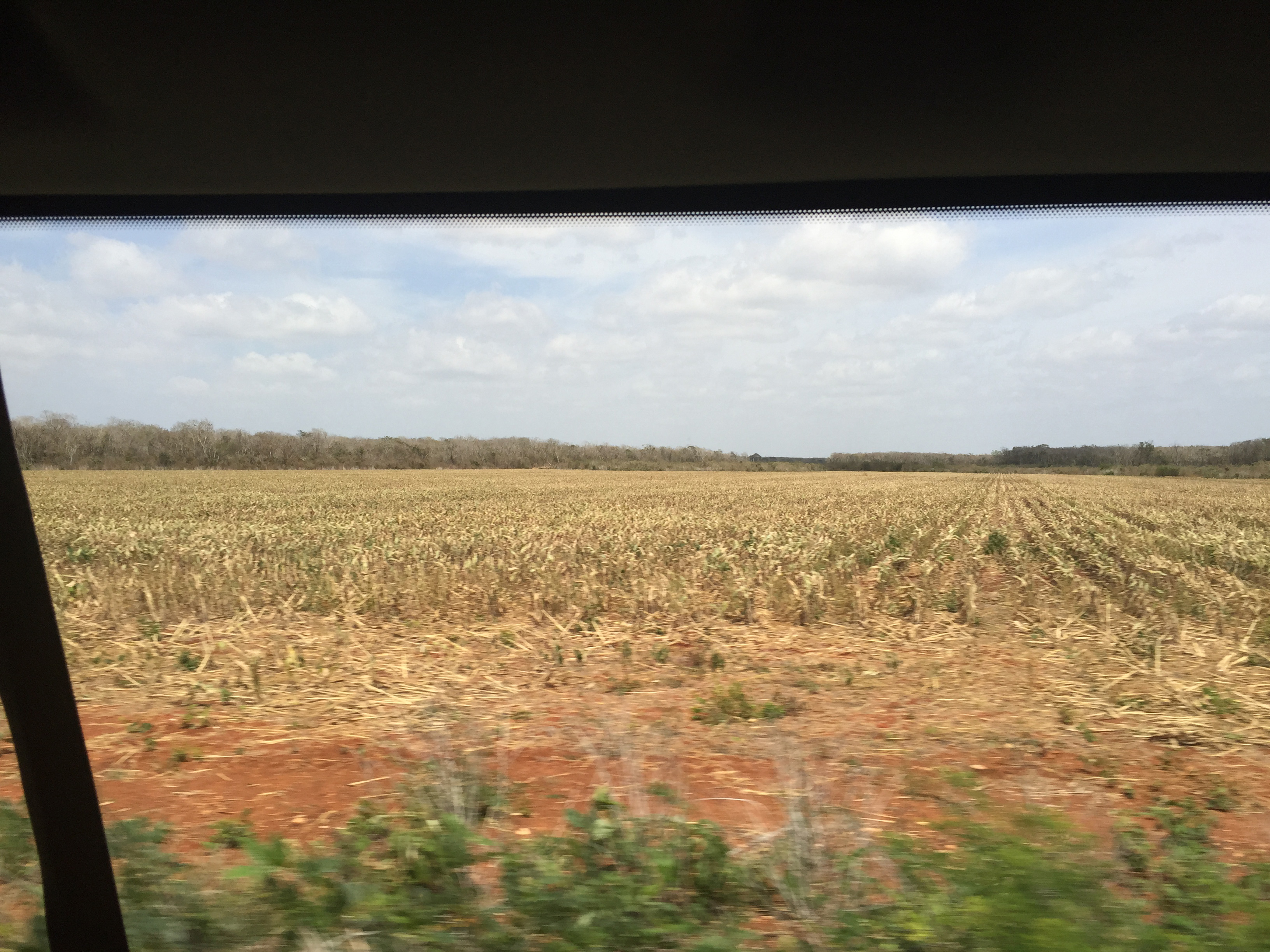 These birds are not very big. When you register your bird with the NWTF, any bird weighing more than 10lbs must be weighed on a certified "Legal for Trade" scale…a 14 lb bird is huge! Ocellated turkey do not have beards…Toms or hens. And, the Toms do not have the typical red snoods, nor do they gobble. The Toms do have some nodules on their heads called carnucles and this is really the only distinguishing mark they have that you can tell the Tom and hen apart. Also, these birds are highly prized for their long, sharp spurs.
Our Ocellated turkey hunts accommodate groups of up to seven hunters. We employ two totally different hunting strategies for the Ocellated turkey and the one we utilize is totally dependent upon the time of year when you are there. The breakpoint is somewhere around the 3rd week of March, which is when the hens ease off into the rainforest to nest.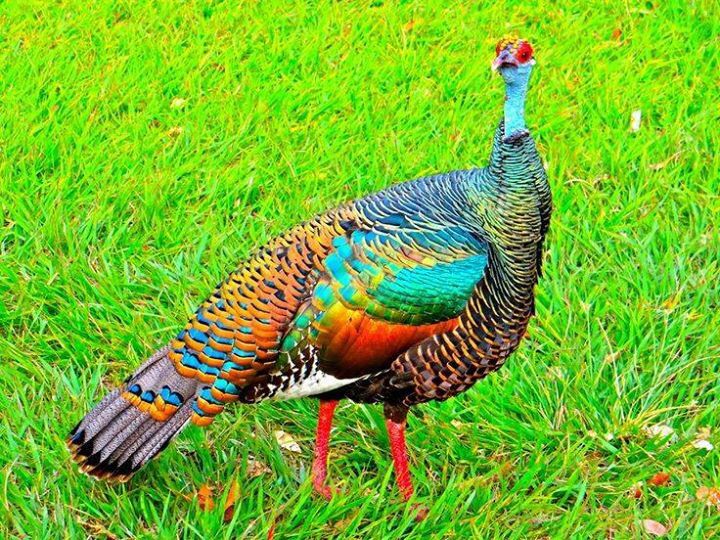 Prior to this time, we hunt the Ocellated turkey by utilizing trail cams to pinpoint where the flocks of birds are coming out of the rainforest to enter the fields for feeding. While they do not always come out of the rainforest at exactly the same spot, we are normally close enough to get a shot when they come into the field, while they are feeding / strutting, or when they return to the rainforest after feeding. During this time, it is fairly easy to pick out the Tom as he will likely be strutting…and you may see several hundred birds during your hunt. If you are a bow hunter, you will definitely want to come before the 4th week in March, preferably in February.
After the hens go to nest, we move our trail cams to the water holes deeper into the rainforest to pinpoint the roaming Ocellated Toms then setup ground blinds nearby. I mentioned earlier that they do not gobble…but, they do make a sound, normally referred to as a 'song.' We have recorded these sounds and play them from ground blinds. When the local male hears these songs, they come rushing in looking for a fight. During this time, you may only see one bird in several days of hunting, but he will likely be the dominant male of the area.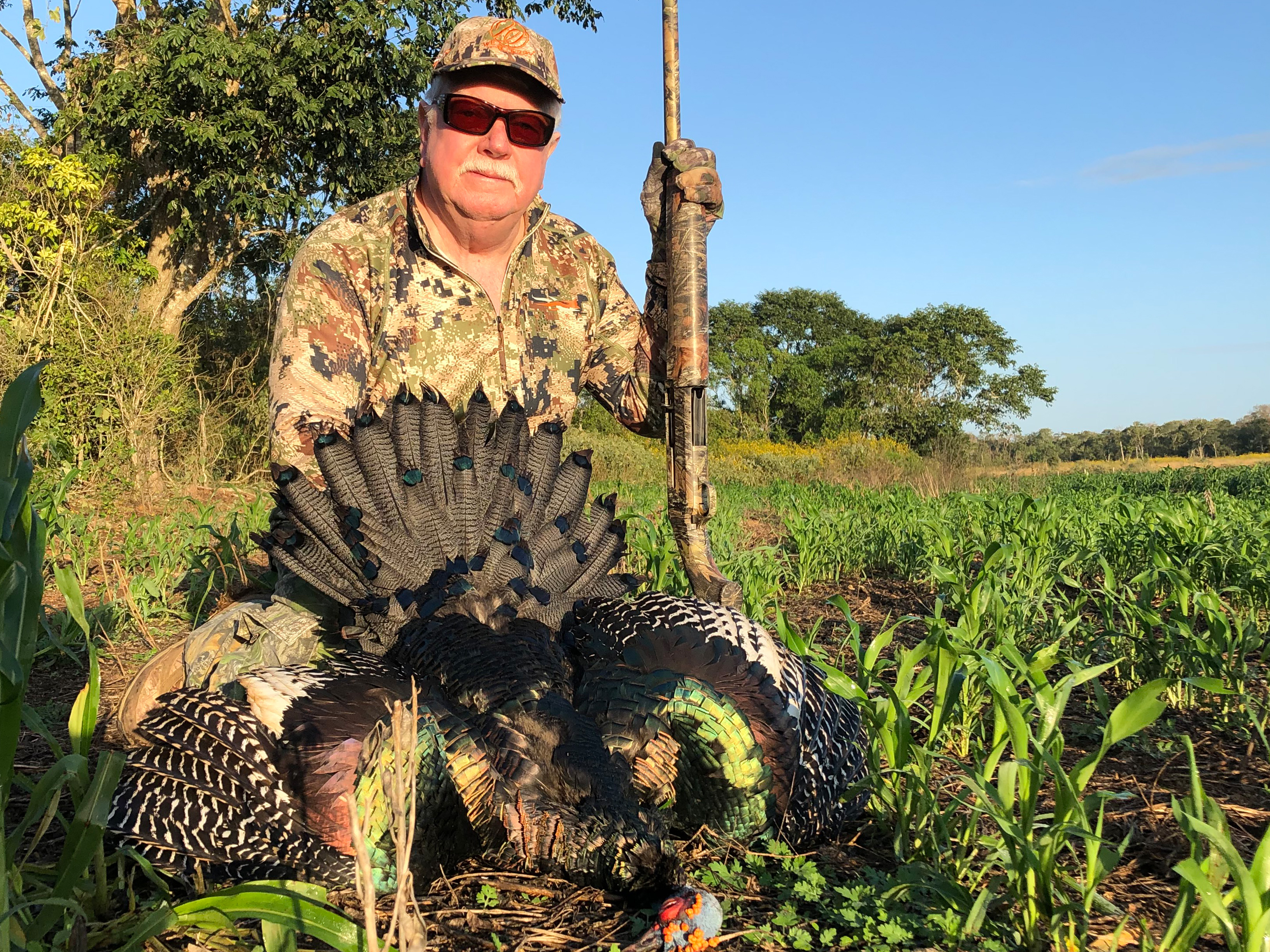 The trip to Mexico to hunt the Ocellated turkey, you will bring you to Merida, the capital of Yucatan. Direct flights from the US to Merida are provided by American Airlines from Miami or United from Houston. You should arrange your travel to arrive in Merida on Sunday and depart the following Saturday. We have an executive transportation service pick you up at the airport and take you to your hotel. After breakfast the next morning, they will pick you up and deliver you to the lodge compound and return you to your hotel after your hunt and deliver you to the airport the next morning for your return flight back to the US. The trip from Merida to the lodge is approximately 5 hours. I always recommend the Fiesta Americana Hotel. It is certainly one of the finest hotels in Merida, but more importantly, they cater to hunters and will keep your trophy frozen overnight and retrieve it for you early the next morning before your leave for the airport. An overnight stay is around $100. If you need help with your air or hotel reservations, please let me know and I will be happy to arrange them for you.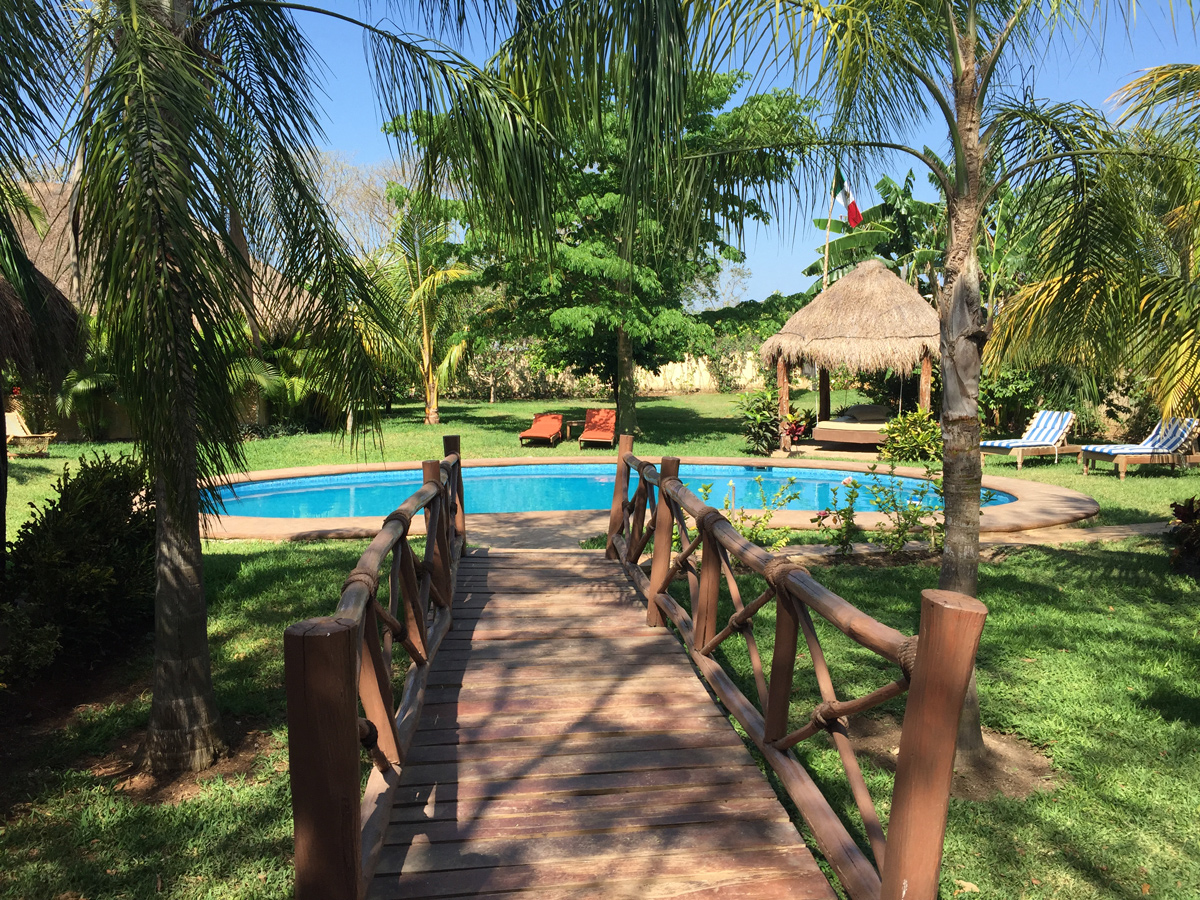 The Lodge where you will stay is located in a small village approximately 15 minutes from where we hunt. We have air-conditioned private cabins with bath and shower. In the center of the compound is an open bar, dining facility and recreation area to watch TV or shoot a game of pool. Speaking of pool, there is a very nice swimming pool located on the side of the compound opposite the cabins for a nice quiet place to unwind. Overall, this is a very relaxing environment with an extremely efficient and friendly staff, well-manicured grounds and delicious food.
The Ocellated Turkey Hunt Package includes ground transportation to/from the airport, hotel and lodge, lodging at the compound, meals, hunting license, turkey tag, use of our shotgun and ammo, USDA approved preparation of your trophy and all documentation necessary to bring your Ocellated back into the US with you, including a CITES Permit. Our hunts are fully guided 1:1. Does NOT include airfare, hotel stays or tips. While tipping is a personal choice and certainly not a requirement, I always suggest 10%.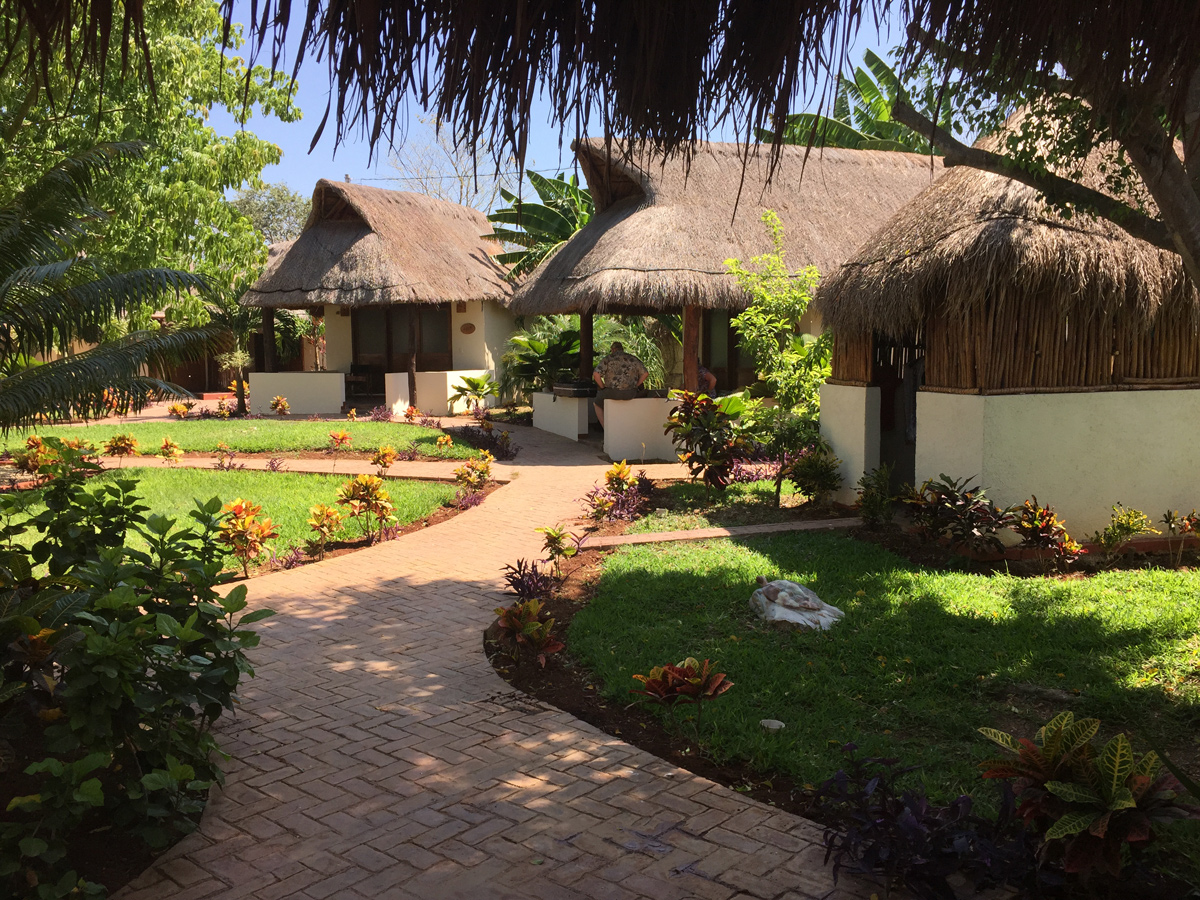 N2021 hunts are SOLD OUT. Not booking 2022, yet!
Jan 20-24 - SOLD OUT
Jan 27-31 - SOLD OUT
Feb 3-7 - SOLD OUT
Feb 10-14 - SOLD OUT
Feb 17-21 -SOLD OUT
March 2-6 - SOLD OUT
March 9-13 - SOLD OUT
March 16-20 - SOLD OUT
March 23-27 - SOLD OUT
March 30-April 3 SOLD OUT
April 6-10 - SOLD OUT
April 13-17 - SOLD OUT
2021 package price = $4,100. Deposit = $1,800. 2nd bird = $1,500.
For planning purposes, in a typical year these dates will all be gone by the first day of the NWTF Convention in Nashville and on the second day we will begin booking 2021 dates. Please contact me to verify availability as it changes daily or stop by my booth at the NWTF Convention in February.
Please contact me for current availability and pricing.
Email me at Larry@LarryNewton.com or call me at 270.293.6618.
Please visit the links below for more information about additional turkey hunts.